Frequently Asked Questions
We recommend frequent inspection of your Spark Arrestor screen.  Proper & frequent cleaning of the screen will allow your motorcycle to breath properly.  If you inspect any holes in the screen we recommend immediate replacement of the Screen. 
If your screen is moving when the End Cap is fully tightened, we recommend a small modification to the screen.  With hand pliers, simply place a kink in 4 locations at 12, 3, 6 an 9 o'clock. This will create a spring washer effect and hold it tight. Please see the attached photo.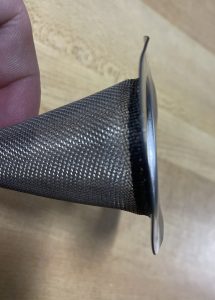 A) Most of the time no but please give us a call and we'll let you know what bike/models it does fit.
A) No more than 40lbs. Also avoid carrying fuel/water jugs, as the inertia of the sloshing liquid can put additional stress on the rack and subframe.
A) Sometimes.  Many models take the same peg, so you may just need a new fit kit. Some bikes/models take an alternate peg design and are not cross compatible. Give us a call and we can help you figure out what you need.
A) All Fastway products have a product warranty for a period of 90 days from the original date of purchase. This warranty applies to the original purchaser only. Crash/Impact Damage, modification, stripped or missing bolts or damage done during installation is not covered under warranty.
A) In the event of a warranty claim, we will attempt to verify the complaint as best we can with pictures via email. In some cases, the item may need to be sent in for a hands-on inspection. If the item is determined to have a defect, we will, at our discretion, repair or replace the item. Please call us at 208-466-4762 to start the process.
A) Items being returned for credit will be assessed a 20% restocking fee. Discounted or discontinued items are not eligible for a return or refund.  Items purchased by a retail customer from a dealer must be returned through the same dealer and are subject to said dealer's stated retail return guidelines. Returns will not be accepted without an RA number, please call us at 208-466-4762 to receive a return authorization number before returning your item.
A) Please feel free to give us a call! Our team of experts is standing by to help answer any question you may have. We're available from 7am-3:30pm, Mountain time, Monday through Friday, or can be reached via email at sales@promotobillet.com.